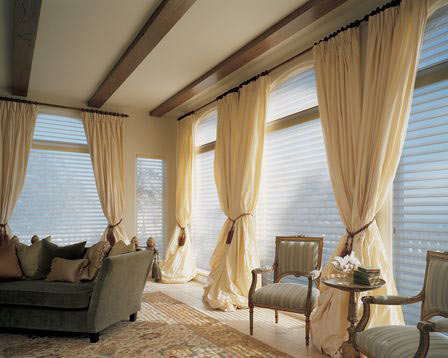 When you choose Vegas On-­Site Drapery and Fabric Cleaning, you are selecting a business that has delivered outstanding results to clients for over ten years. Our expert curtain and window treatment cleaning service ensures that your fabrics will be thoroughly cleaned without risk of damage or shrinkage. We are committed to making sure every client is satisfied with our work. Our services include:
Drapery and fabric cleaning: When you have gone to the time and expense of purchasing top quality window treatments, draperies, and/or curtains, you want to make sure they are cleaned properly. Therefore, when it comes to cleaning your delicate fabric draperies and window treatments, don't just trust anyone. Since 2004, Vegas On­-Site Drapery and Fabric Cleaning has served as a primary provider of quality fabric cleaning. Using a state of the art injection/extraction process we're able to clean your fabric window covering products by removing all routine dirt build up, using both the dry and wet clean processes as determined by the fabric. Also, by removing dust, dirt, allergens, and contaminates, your home air quality may be greatly improved.
On-site drapery and fabric cleaning: Other drapery cleaning services in Las Vegas, NV make you come to them or they take your curtains/draperies with them only to return a few days later. Not us! The beauty of our unique service is that you don't have to be without your window coverings for days, as we do our cleaning onsite, and you don't have to worry about removal, transport, and rehang of your window treatments, definitely avoiding loss of privacy and potential damage and wrinkling. Additionally, we are able to clean cornices, valances, and swags that cannot be cleaned by traditional take­down providers.
Take down and rehang services: Certain conditions negate the onsite method as the primary cleaning choice, such as interior house painting, restoration, or remodel. Therefore, as an option to the onsite drapery cleaning method mentioned above, we can also carefully remove your window treatments, clean, and then rehang them.
Flexible scheduling: Let us work around your schedule. Our family owned and operated business offers flexible scheduling both during and after normal business hours. We're committed to both quality and convenience at Vegas On­-Site Drapery and Fabric Cleaning.